Rehidrat Sport Hydration Powders
Rehidrat Sport Hydration Powders
Hot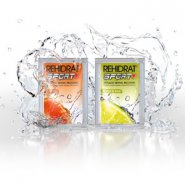 Rehidrat Sport Hydration Powders help the body to replenish lost fluids, so it can perform all its necessary functions. Each sachet of Rehidrat Sport Hydration Powders contains an optimal balance of sugars, salts and minerals to replenish lost fluids and help prevent and treat dehydration and electrolyte depletion. The formula contains no artificial preservatives, colourants or sweeteners.
To use, simply dissolve the contents of one sachet in 250ml of freshly boiled and cooled water.
Often, dehydration can be counteracted by drinking water. However, if the body gets to a place where it's dehydrated due to loosing bodily fluids, then it's advised to take Rehidrat to help replenish electrolytes that have been lost.
Is it important to prehydrate before exercise, hydrate while exercising and rehydrate after exercise to prevent dehydration.
Signs of dehydration:
Thirst

Irritability

General discomfort followed by headache

Weakness

Dizziness

Cramps

Chills

Heartburn

Vomiting

Nausea

Head or neck heat sensations

Decreased performance