Chela-Preg Pre-Natal Trimester 2
Chela-Preg Pre-Natal Trimester 2
Hot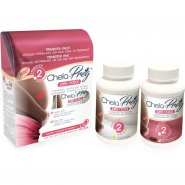 The new Chela-Preg Pre-Natal trimester packs have been specially formulated to support your body at each stage of pregnancy, with a unique day and night dose. 
The Trimester 2 pack supports your body during the second trimester, with 26 micronutrients that are essential for tissue and organ differentiation and development.
Extra DHA-Omega 3 helps to support the development of your baby's brain and nervous system while additional calcium helps with skeletal development. Vitamin E, extra Vitamin C, choline and zinc help with organ and tissue growth, and more Ferrochel, a gentle non-constipating chelated iron, boosts the formation of red blood cells that carry more oxygen, helping to meet your baby's growing metabolic needs.
Take 1 tablet in the morning and 2 capsules in the evening, after meals.