The Sparkler - Enchanting gold
The Sparkler - Enchanting gold
Hot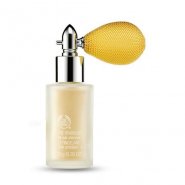 Our brilliant spritz-on highlighter is back for winter 2012. This limited-edition atomiser releases a fine shimmery powder to highlight the face, body and hair. Perfect for the party season. Golden shimmer Even application Mess-free Lightly scented Limited edition
User reviews
I got sent this product so generously from Beauty Bulletin. It is an "all-over shimmer powder" from The Body Shop.

First off, let me tell you about this bottle. It is insanely cute, reminds me of those old school perfume bottles with the little puff bubble thingy that you squeeze. I love, love, love it! The only downfall is that it doesn't have a cap so if it gets squeezed accidentally then PUFF! Shimmer everywhere..

The product itself is a very fine, intensely glittery dust, that always makes me think of Tinkerbell. The first time I used it, i tried spraying it on the top of my cheek bones I found that if you hold it too close, you'll end up with this weird circular shape of the spray contraption thingy, and if you hold it too far, you cant really concentrate the product on a specific area. So i learned the hard way that it really is an ALL OVER shimmer.

I love the light gold colour of it, but i found that when it's blended out with a blush brush, it loses the colour, and you're just left with shimmer. So what I do now is i open the top of the bottle (BE VERY CAREFUL!) and dabbed some of the product that is left in the tube onto my brush and it worked perfectly.

I dont usually wear very shimmery makeup, so I have to be in a daring mood to wear this. And let this serve as a warning,
THIS PRODUCT IS INSANELY SHIMMERY!!