Filorga Oil - Absolute Ultimate Anti-Ageing Serum
Filorga Oil - Absolute Ultimate Anti-Ageing Serum
Hot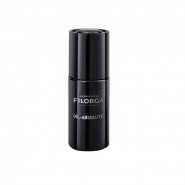 Filorga has launched the first oil serum. It's a luxurious six-in-one oil serum which reactivates exhausted skin and corrects all the signs of ageing.
This high -end anti-ageing elixir has been formulated with three main actions
1. Skin nutrition with it 4 Oils (Baruti Oil, Camellia Oil, Jojoba Oil, Apricot Oil) & Amber extract
2. Cellular awakening with Polyphenols (has anti oxidising powers) & Hexapeptide (has regeneration powers)
3. Age Correction with Tocopherol & Sesamin which provide a filler like action, a plant based active ingredient for redensification of the dermis, hop powder for dark spot correction & Filorga's patented NCTF complex with 50 anti-ageing active ingredients
For more info visit www.filorgasouthafrica.co.za or 012 548 0725
User reviews
The Ultimate Anti-Ageing Serum
Filorga is my absolute favourite French cosmeceutical brand ever and their new Oil -Absolute Serum is the best serum I have ever used to date. It does not come cheap but it is a complete all -rounder for ageing, lifeless or very stressed skin: Think skin nutrition, less defined wrinkles, more firmness, more evenness, improved radiance and skin texture. - bet I had you at less defined wrinkles!!
This treatment product or serum comes in an oil format but it has the super power of a serum with extremely potent anti-ageing benefits.
I only use a few drops applied from a dropper button system both in the morning and at night before moisturizing to both my face, neck and décolleté . I love to massage it in onto my freshly cleansed skin as I really feel the warmth of my fingers allows it to penetrate better.
If you are like me and you look at what's inside, you will find a lot of ingredients that support all different concerns from wrinkles, dark spots, loss of elasticity, dull/tired skin etc. My skin is noticeably glowing and people are commenting how young it is looking :)
Product Recommendation
Would you recommend this product to someone else?
Yes
Would you repurchase this product?
Yes