Review Detail
4.2
12
0.5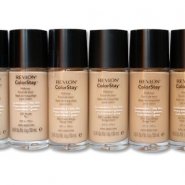 Foundations
April 03, 2012
138
Revlon Colorstay Foundation
This foundation simply disappears onto my skin and takes care of any imperfection without being obvious, which is exactly what you want in a foundation. The formula of this foundation is really nice to work with and I find it's very easy to blend and works great with my beauty blender.

This foundation is great for oily/combination skin and my skin looks absolutely amazing when wearing it. There is no shine or any sign of imperfections. It also lasts me the whole day (even in summer) which is a great plus point as I don't want my foundation to flake off in the middle of the day.

This foundation really provides excellent coverage, but the only issue I have with it is the bottle. I would have loved a pump to dispense the foundation instead as this controls it a bit better and it's less likely that I will spill it out (I can be quite clumsy at times).
Comments