Veet Hair Removal for Sensitive Skin
Hot
September 25, 2013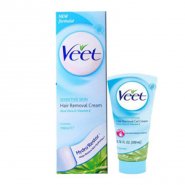 Product Info
Where to Buy
Clicks
Shoprite
Pick & Pay

Veet Hair removal is great at removing hair completely when using the time allocated on the instruction box. I chose the one for sensitive skin as I think that my skin is sensitive,but actually even the normal skin version works as well.

What I discovered the first time I used it is that,it tempers with your skin first,so your skin might be pink after using it and may pain a bit. I use vaseline on my armpits after I'm done to "cure" my skin,as its still too painful.

The after-effects last up to 8 days after which then you might have to remove your hair again.

It comes with a applicator and valid,useful instructions.