Payot Techni Liss Booster
Payot Techni Liss Booster
Hot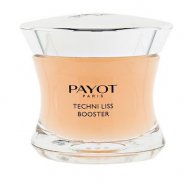 Plumping smoothing gel with hyaluronic acid
This fresh gel contains a complete formula that restores the skin's substance and density for long lasting smoothing effectiveness.
A combination of several forms of hyaluronic acid - the formula acts on the level of hyaluronic acid in the skin, it reinforces and boosts the hyaluronic acid already present. It also prevents hyaluronic acid from breaking down. All skin types.
Benefits :
· The skin is plumped, soft and smooth
· Wrinkles appear visibly reduced
User reviews
I love Payot as it on old but innovative French skincare range with a huge heritage. I use the Payot Techni Liss Booster as part of my night time and morning routine under my moisturizer. I am not currently using any other of the products in the range but the increases levels of moisture and hydration to my skin has encouraged me to check out the entire Payot Techni Liss anti -aging range for when my current skin care night/day cream ends. I also love that this booster is so easily absorbed into the skin with no residue.
Product Recommendation
Would you recommend this product to someone else?
Yes
Would you repurchase this product?
Yes