Review Detail
4.3
26
0.5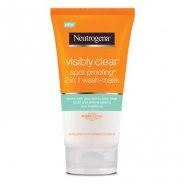 Face Masks
July 12, 2017
306
I love love the packaging, from the box the products were presented in to the bottle and tubes of the products, they are easy to handle and not too big, so they can all fit in my toiletry bag.
So the range consists of 5 products and since I received my parcel early in the morning I decided to try them then and there.
Ohhhh the scent is sooooo amazing I picked up gentle citrusy and sweet florals , they immediately give you a pick me up.

•Smoothing scrub
It's not too rough on my skin, the beads dissolve immediately when I start rubbing it on my face.

•wash/mask
I used it as a mask on my face and neck, left it on for 15 minutes, when I washed it off I immediately saw the difference my skin was less oily.

•daily wash
I love the gentle cleansing effect it has, and it's not too foamy.

•purifying toner
My pores became less visible when I applied the toner. And my face felt softer

•oil free moisturizer
Very light and nice consistency, I felt a gentle cooling effect a few seconds after applying, and it absorbed easily on my skin.

Product Recommendation
Would you recommend this product to someone else?
Yes
Would you repurchase this product?
Yes
Comments