Essence Shading Powder 02 Medium
Hot
May 25, 2016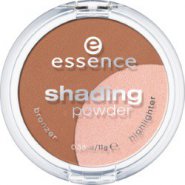 Product Info
Where to Buy
R57.95 available at Clicks, Dis-Chem, Red Square, Takealot, Pick n Pay, Checkers and selected independent pharmacies.
A bronzer and a highlighter in just one product! The essence shading powder is a combination of both the shimmering highlighter and matt bronzing powder and is ideal for contouring the face. The bronzer can be used to add a touch of shade to the cheeks while the highlighter accentuates the cheekbones.
User reviews
Essence shading powder 02 Medium
I am a die-hard Essence fan. However was not too impressed with the highlighter of this product. I felt it wasn't as pigmented as I liked and had to apply a lot of product to get the highlighted glow on my cheek bones. However because of the price I do feel like there is no room to complain. On the flip-side the bronzer worked amazingly and gave a warmness to my skin and did not fade away throughout the day.
Product Recommendation
Would you recommend this product to someone else?
Yes
Would you repurchase this product?
No
Was this review helpful to you?