Catrice Prime and Fine Highlighting Powder
Hot
May 20, 2014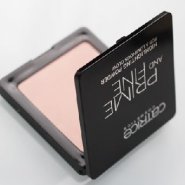 Product Info
Where to Buy
At selected Clicks stores around the country.
It is a fine highlighting powder in a black compact case with silver writing on it. It is called Prime and Fine Highlighting Powder.
User reviews
Catrice Prime and Fine Highlighting Powder
I'm not sure whether this product is still available for purchase, but as a substitute you can try Catrice Prime And Fine Matt Powder Waterproof which can be purchased at Dischem at R89.95.

I really enjoyed using this product.

I didn't even have to apply a lot and it left my skin with this light golden glow which shimmered in the sun.

It also didn't fade quickly and stayed on place.

I will definitely be giving the substitute I mentioned a try in the future.
Product Recommendation
Would you recommend this product to someone else?
Yes
Would you repurchase this product?
Yes
Was this review helpful to you?
The highlight at the end of the tunnel
This highlighter works really well on a well moisturised and primed skin. I love that it is subtle and adds a gentle glow to the applied areas. It is a gorgeous colour and matches my skin well. I love that it is a powder because I don't like to use cream based makeup on my face as I find my skin is already a bit oily in places. Having said that, if I don't put enough moisturiser on my face before applying this product it seems to go all over and not just where I intend to put it. It has quite a good shimmer to it. Almost glittery in texture but very fine. A great price- R59.95- for a not so bad highlighter that gets the job done. Love using it.
Was this review helpful to you?