GOSH Amazing Length 'N Build
Hot
July 28, 2015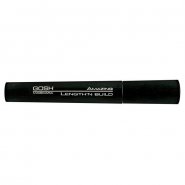 Product Info
Where to Buy
R89
Edgars stores nationwide
An easy to apply mascara equipped with a fine structured brush to separate and comb the lashes to achieve thicker, longer and fuller lashes. The combination of the brush and soft liquid that contains panthenol and natural wax gives lashes a natural and smooth finish that lasts for hours. The mascara is paraben and perfume free. 
Available in black, dark brown and electric blue. 
User reviews
GOSH Amazing Length 'N Build
For some reason this mascara was very harsh on my lashes. I have pretty long natural lashes, but they just completely broke off at the ends after using this for a while. I cannot explain it??? Also, the formula did turn pretty thick after just a short time. I do not recommend this product.
Product Recommendation
Would you recommend this product to someone else?
No
Would you repurchase this product?
No
Was this review helpful to you?
GOSH Amazing Length 'N Build Electric Blue
After seeing colourful mascara feature on the red carpet - I have been searching for a mascara that offers me distinct colour with defined and long lashes. After trying a multitude of products - in numerous shades- I was eager to try this GOSH Amazing Length 'N Build when it landed in the office.

The product was judged on three basic criteria; the colour, the length and the longevity of the mascara on my lashes.

The colour: Whilst the colour appears extremely blue on the wand, on application it was slightly muted. With a dark complexion I have experienced difficulties in wearing bright mascaras and would therefore recommend a white base/primer to ensure that the colour pops! I found that after continuous reapplication - the colour appeared more noticeable.

The length: My eyelashes are long but extremely blonde at the end - making it difficult for them to appear long without mascara. I always look for a product that will coat each lash and encourage length and separation. The brush of this product is well designed so that each lash gets individually coated and separated.

The longevity: The liquid of this product is extremely thick and wet so it really does last all day! After application and reapplication my eyelashes were defined and dark and remained so until I went to wash it off later that evening.

THE VERDICT: This mascara creates wonderful separated and long lashes, however the pigment within the mascara is not strong enough to create that electric blue look on dark lashes. The liquid is thick and lasts all day and the brush is well designed to ensure that each lash is well coated and separated.
Was this review helpful to you?