Bourjois Volumizer Mascara
Hot
October 24, 2014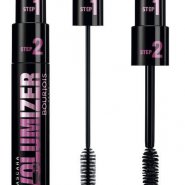 Product Info
Where to Buy
Available at Clicks stores nation wide
Retails for R145.95

You get two masacaras for the price of one with the Bourjois Volumizer Mascara. Coat your lashes in two easy steps using one mascara wand for length and the other for volume.
Did you achieve super volumized lashes with Bourjois Volumizer Mascara? Share your Bourjois love it or loathe it review below!
User reviews
volumized mascara
It gives volume and length. If you have short lashes like me, this is what you looking for to give that extra length.
Was this review helpful to you?
Bourjois Volumizer has great impact
I am a complete Bourjois virgin and have no idea why I always took a detour around the brand in Clicks and didn't notice it. Since my obsessive Youtube makeup tutorial addiction grew, I saw more and more beauty enthusiasts (professionals and plain enthusiasts alike) praise Bourjois. I've noticed their CC cream and also their Rouge edition lipsticks, as well as their amazing matte bronzers, and thought 'no wait, let me try'. But mascara? Nah. I wasn't set on changing my mascara just yet. As a creature of habit and a firm believer in my brands, I've been using and using and using my Maybelline mascaras since I could remember. Until I got my hands on this little number, with not one, but TWO tubes. I mean.

So, about the Bourjois Volumizer Mascara: During the years, we've learned so much about the difference that a mascara brush, paired up with a good formula, can make. A slightly curved brush? Genius. A large brush to ensure that all your lashes get coated? Yes please. But now, we have one great brushes combined into one product. The first application ensures that your lashes are nice and defined and feathery. The second application coats your lashes evenly with more mascara, given a dramatic touch and that jet black look that I just love. This product wasn't lumpy at all. The two applications is definitely something to get used to, but quite revolutionary and you can definitely notice the impact. And ever since I've got my hands on this, I've kept on using, and using, and using the product. A must-try, I'd say!
Was this review helpful to you?