Chanel Rouge Coco
Hot
July 16, 2015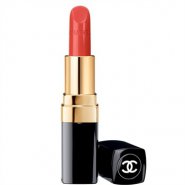 Product Info
Where to Buy:
R 505; Chanel counters.
A creamy, hydrating and high-shine formula with Jojoba and Mimosa butters, as well as Sunflower Wax and silicone. Available in 29 shades. 
User reviews
A Lipstick love Affair - courtesy of CHANEL
As a self-confessed lipstick junkie, you can imagine the joy on my face every time I walk into a beauty store. Lipsticks are the one of the few beauty products I always splurge on and Chanel allows me to do just that.

The Rouge Coco line has about 29 different lipstick shades but I have a few favourites that look absolutely stunning…on me specifically! I always have a problem finding shades of lipsticks that I feel look good on me, so when I find a shade I love, I am buying those shades forever.

I Love, love, love CHANEL so when it comes to the Rouge Coco line I couldn't make up my minds but I love these four colours:

When it comes to the nudes, I love the Antoinette. I think because I have medium skin tone, it looks more like a nude on me but otherwise, it is nice brown colour. I love oranges and reds when it comes to lipsticks so obviously, the Coco and Misia are my utmost favourites and I cannot live without them especially Misia, which is the most reddish undertones of oranges. And from the pinks I loved Legend.

Splurging on a little CHANEL is always good for the soul ?

Product Recommendation
Would you recommend this product to someone else?
Yes
Would you repurchase this product?
Yes
Was this review helpful to you?