Bourjois Lèvres Contour Lip Pencil
Hot
March 24, 2015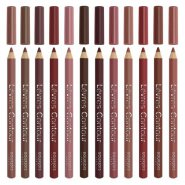 Product Info
Where to Buy
R 95.95 at Clicks
A long-wear lip liner enriched with Shea butter and grapseed oil that provides long-lasting colour and definition. It acts as a barrier to prevent lipstick from bleeding.
User reviews
Bourjois Lèvres Contour Lip Pencil in 09 Plum it Up!
I'm a proper lipstick junkie, but I get very frustrated when I have to continuously reapply and reapply and reapply... One solution to this problem is to wear a lip liner like a lipstick, colouring in the whole lip area. My lips are always dry and chapped, so I've found lipliner to be too drying to wear on it's own.

Then Bourjois Lèvres Contour Lip Pencil entered the picture...Enriched with Shea butter and grapeseed oil, this lip pencil is creamy and moisturising. It is honestly the best lip pencil I've tried in a long time. The colour applied smoothly and evenly. I tried out 09 Plum it up! and I was really happy with the results.

Do yourself a favour and buy every shade of Bourjois Lèvres Contour Lip Pencil that you can get your hands on. Go, go, go!
Was this review helpful to you?