Pure Romance: Kiss and Tell Lip Gloss
Hot
January 05, 2014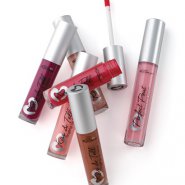 Product Info
Where to Buy:
Pure Romance consultant
Have the most kissable lips ever! Exclusive to Pure Romance, Kiss & Tell Lip GlossTM is specially formulated to make soft, slow kisses even better. Each great color delivers hydrating moisture, luscious kissability, and a little bit of tingle both of you will love! Find your favorite shade for going out, a shade for every day, and an extra for kissable moments in between! .12 oz. / 3.4 gm.
Directions
Use your favorite shade of Kiss & TellTM over your lipstick or as a lip-gloss for a perfectly kissable mouth!
Features
Exclusive Pure Romance lip gloss. Create a luscious tingle with great color choices. For the most kissable lips. Moisturizing.
Your Price:
R 181.00
User reviews
Quick, Kiss me NOW!
You will rarely find me wearing lip products, but every now and then I can't resist the urge to try something new. I purchased this product in "Little Black Dress," because in my mind - every girl needs one. And just as in the case of our LBDs, every girl needs this gloss to complete the look. The colour is a vibrant and daring red, which looks perfect during the day, if you use it on its own. Or if you prefer a more dramatic or emphasized look, for the evening, applied over lipstick or lip liner, creates a complimentary and elegant look. I am not usually a fan of "tingling" lip glosses that causes plumping, as I find I want to constantly rub it off. However, this tingling isn't as bad as most glosses and the desired plumping is definitely evident. I love how moisturizing this gloss is, being sure to leave lips feeling soft and kissable all through the day! I do wish that Pure Romance would launch a lip gloss set with 3 or 4 glosses in a bag, perhaps smaller in size to bring the cost down too. I think that this product is often ignored, from their range, as the ladies do love to giggle, share and explore the rest of the catalog. However, I do feel this is yet another amazing beauty essential from them and I am excited to try out some more!
Was this review helpful to you?