LA Girl Colour Balm Lip Balms
Hot
April 07, 2016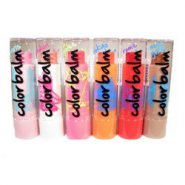 Product Info
Where to Buy
R30.00 at Dis-Chem
LA Girl's colour Balm gives your lips a natural, sheer wash of color with the smoothing, soothing benefits of a balm. Available in 6 shades inspired by some of the world's most fashion-forward cities.
User reviews
L.A. GIRL Colour Lip Balm - New York Latte
L.A. Girl New York Latte Colour Balm comes in a cute packaging with the NY skyline etched on it. The stick is light brown in colour with a shimmery look to it. It is lightly scented. While this balm moisturises my lips, it leaves them with a frosty look that I do not like. I play around with my lip liners to tone it down. Whilst I like the packaging of this balm, I will not be repurchasing this product as it really does not look good on me. I may try the other colours in the range. It retails for +/-R30 and Dischem.
Product Recommendation
Would you recommend this product to someone else?
Yes
Would you repurchase this product?
No
Was this review helpful to you?