Inglot Lip Paint 17
Hot
August 13, 2013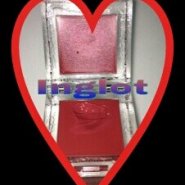 Product Info
Where to Buy:
Inglot Stores
The Inglot paints are 1 of the most amazing things I have come across.

It looks and feels like a lipstick but it appears to be a very gorgeous gloss on the lip.

I have the duo nr 17 which has 1 gloss and 1 lip paint.

I get loads of compliments when I wear this on my lip and even more when people see the packaging because its very classy and compact.

I love the formulation because it makes your lips super glossy and NEVER sticky.

Pigmentation on this lip paint is stunning! The colour in the cube is exactly what you will expect on your lip.


I love that its, glossy not sticky
Gorgeous pigmentation
Does not bleed
Packaging is sturdy
Does not show fine lines on the lip.

With this product, you also need to carry a lipbrush every where you go.

I do recommend this and I recommend that you go in store to purchase!




User reviews
Was this review helpful to you?