Clarins Instant Light Lip Comfort Oil
Hot
December 04, 2015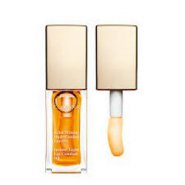 Product Info
Where to Buy
Clarins Counters; R280.00
An innovative lip care treatment from Clarins is infused with all plant oils to nourish and enhance your lips' natural beauty.
User reviews
To stick or to syrup
Ok, I don't love it or hate it. I needed something to help my dry lips after a week in the Berg and this was what I got. I am used to the humid air of Durban, so even a few days inland are torture on my lips and nostrils. This definitely did help, I just found it very sticky like having syrup on my mouth.

I would use it again, except that I won't pay so much for something I would only use once or twice a year again.

If someone battled with dry lips and liked the feeling of lipgloss, then I would definitely recommend this. It isn't going to break the bank to give it a try either, I just think that there are cheaper alternatives to suit me personally.
Product Recommendation
Would you recommend this product to someone else?
Yes
Would you repurchase this product?
No
Awesome Product
It leaves my lips soft and moisturized all day long.
Product Recommendation
Would you recommend this product to someone else?
No
Would you repurchase this product?
Yes
Clarins Instant Light Lip Comfort Oil
I know I'm officially "too late" for this post, because winter is over, and this product would have been the perfect lip saver, but this product is an "everyday of the year" lip product. I'm going to start off with my reaction when everybody started talking about Clarins Instant Light Lip Comfort Oil, I had complete mixed feelings about this product. Lip Comfort Oil? Oil? All I could think of was the taste of oil and thick weird feeling lips, because well… I'm fussy like that.
I searched around for this product, and discovered I could choose either a golden Honey coloured Lip Comfort Oil or a limited edition Raspberry coloured oil, of course I chose the LIMITED EDITION!! With all excitement I thought about the product the entire road home, would I like it? how would it feel? what is all the hype about the product? will I be able to rave about this product? I generally push away trying a product as soon as possible if I'm feeling skeptical about trying out the product, I mentally prepared myself for a week, and took the dive on a Saturday morning, (I'm such a drama queen) this product made all my worries go away, not all… but any that were related to this product. So let's get down to details on this product...
The box screams classy, like classy at its best, the gorgeously deep red box really works for me, because it gives you high expectations to see what is in the box… of course the Clarins Instant Light Lip Comfort Oil doesn't fall short of anything. The product is packaged in a powerful small "square style" lipgloss tube, which is a perfect size to hide in your clutch on a night out. I really loved the packaging, with the shimmering gold lid and the see through glass, showing the glistening product made me kind of excited to try it out. The Lip Comfort Oil comes with a lovely large doe foot applicator, which makes applying the product much easier, with one or two simple swipes of the product. The Lip Comfort Oil has a light, sweet smell which I could get as soon as I opened the product, the scent eased my feelings towards the product as I took the plunge, one light sweep of the applicator on my lips and this product owned me… WOW all my negative thoughts were out the window and I was glad I had spent the R250 for this lip product.
The Lip Comfort Oil has a thick gloopy kind of texture, like a really thick kind of lipgloss, however on the lips, the Comfort Oil has a light gloss silky feeling, with no sticky or tacky feeling on lips. My lips instantly felt hydrated and comfortable during the harsh dry and cold winter weather. After a week of using the product, I could feel the difference, my lips looked more nourished, softer and much more comfortable. I used the Clarins Instant Light Lip Comfort Oil during the day, and in the afternoon, however I didn't want to use it in the night before going to sleep because the idea of sleeping with the product on my lips made me think of waking up with an oily pillow, face and probably hair too. So I would suggest keeping this product away from the bed time usage because it could get kinda messy.
I was definitely impressed with the Clarins Instant Light Lip Comfort Oil, the only disappointment that I had with the product was the gorgeous red hue from the lip oil wasn't really noticeable, so it looked like I had clear gloss on, but I guess if you're in the mood for some colour, there is no harm in applying lip liner completely to lips and then topping off your colour with the Lip Comfort Oil. I'm going to really give Clarins five stars for this product. It is amazing, and perfect for when lips need some extra attention. The product is available at Foschini, Truworths and Edgars, and retails for R250. You might not be able to get the limited edition Raspberry, but I've heard the Honey is just as amazing!
Product Recommendation
Would you recommend this product to someone else?
Yes
Would you repurchase this product?
Yes