Yardley Oatmeal Light Cover Foundation Normal to Combination Skin
Hot
February 15, 2018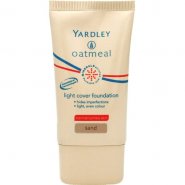 Product Info
Where to Buy
Available at Clicks and Foschini stores countrywide
RSP: R80.00

This foundation is specially formulated using hydrating minerals to deliver a light cover that helps conceal blemishes and other imperfections for a smooth natural looking complexion with a silky texture with an even spread across the skin.
User reviews
Yardley Oatmeal Foundation
This foundation is great to use on days when your skin is clear and you don't want to apply too much make up.

It has a BB cream effect on the face. Definitely shouldn't be used if you're going to apply a full face of make up.

Price is good.
Product Recommendation
Would you recommend this product to someone else?
Yes
Would you repurchase this product?
Yes
Was this review helpful to you?