Revlon Age Defying with DNA Advantage Cream Makeup
Hot
February 15, 2012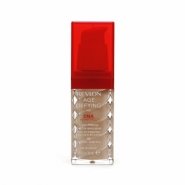 A full coverage makeup that does more than simply fight the signs of aging. Its proven skincare ingredients and SPF 20 help protect your skin's DNA, your most important defense against the signs of aging. 96% of women saw younger-looking skin in 2 weeks.
User reviews
Revlon age defying foundation
I absolutely love the Dewey look this foundation gives me.. The coverage is buildable and doesn't leave your face looking Cakey. The foundation glides on beautifully.. There's a hint of shimmer in this which I quite like..

This foundation gives me a fresher, younger and radiant look.. I do have to set it with powder to make it last longer but I'm not complaining..


Product Recommendation
Would you recommend this product to someone else?
Yes
Would you repurchase this product?
Yes

Perhaps better for winter?
The colour 55 'Golden Tan' was the perfect match for me, however, this isn't the kind of foundation I'd normally go for - I prefer a full coverage, matte finish, and being an age defying foundation, this was more medium coverage with a glowy finish.

I have sensitive skin that was always very very oily in my teen years. Since going on the pill, my skin is less oily than before, but particularly in the summer months, my t-zone starts to shine after a good few hours. I usually use products for dry/sensitive skin, as my skin is so sensitive that any mattifying creams/serums usually irritate it, and I have dehydrated skin around my nose and my chin.

This foundation is very light feeling, and it almost feels rich, like it has a serum or oil in it. It feels lovely and light on the skin, and is so creamy, applying beautifully.

However, for my skin, I think this would be better as a winter foundation for me - I applied it just after 7, and by 10 I needed to blot with blotting papers. When my skin is drier in winter, it would be PERFECT!
Product Recommendation
Would you recommend this product to someone else?
Yes
Would you repurchase this product?
Yes
I'm a huge fan of Revlon foundations and to be honest I usually only use them and only stray once in a blue moon. This foundation claims to be full coverage but it's not mask-like or thick at all. It has a nice creamy consistency but feels and looks very lightweight on the skin. It does a fabulous job of covering up blemishes.

This foundation contains a tiny amount of shimmer, but it's barely noticeable in my opinion. My skin is feeling smoother and definitely not as clogged as it can feel from some other foundations.