Bobbi Brown Extra Repair Foundation
Hot
November 07, 2013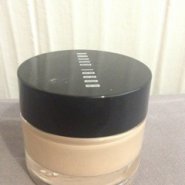 A creamy buildable coverage foundation. Nourishing and hydrating ingredients instantly moisturize skin.
User reviews
Bobbi Brown Extra Repair Foundation
Sadly my Revlon Foundation came to an end, and I decided to go try and find a more natural looking foundation (trying out the 'natural' look). I know Bobbi Brown is known for their make up being more natural so I went out to their store in Cavendish and came home with the Extra Repair Foundation, which is for dry skin. The foundation has a wet feeling when applying which i don't really like, and it feels rather heavy during the day as well. I'd recommend using a powder over the foundation cause it can get a little oily, but I like the glow it gives, unlike some other foundations that gives a matte finish. I'm really happy with the coverage, it leaves my skin almost 100% flawless, as you can see in the 'before and after' pictures. The price is a little high, but for a foundation that will last probably until next year, it's worth it. The foundation also has SPF 25 in and leaves your skin soft with the moisturizer. All in all it's a great foundation for everyday use, leaving you with a more natural look.
Was this review helpful to you?