Yardley Glitter Eyes
Hot
June 10, 2013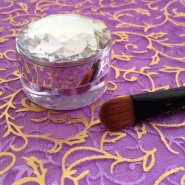 Product Info
Where to Buy
Edgars Clicks Dis-Chem
Limited Edition Loose Eyeshadow - Only available till July 2013
Retails for R69,99
User reviews
Yardley Glitter Eyes
I loved this eyeshadow so much,I bought three of them.
Purple,Gold and Brown I'm so happy with them,the eyeshadow container is just
Beautiful in the shape and look of a diamond.
So easy to apply,apply with or without eye primer,a beautiful shimmer in this eyeshadow
Makes heads turn.


Was this review helpful to you?
Glitter Eyes: Purple
Glitter Eyes

Loose eyeshadow pigments are becoming very popular now days, from NYX to Essence. Well now Yardley has released their most amazing eyeshadow ever! This eyeshadow will definitely be a Product of 2013.

This limited edition pearlised loose eyeshadow has a beautiful high pigmented colour with an eye catching shimmering finish. The loose eyeshadow is fine and blends into eyelids perfectly with or without eye primer. The colour is vibrant and has a long lasting shimmer colour.

The Glitter Eyes loose eyeshadow are available in the following shades:
Shimmer Purple
Shimmer Silver/White
Shimmer Green
Shimmer Brown
Shimmer Gold

Unfortunately the shimmer pots don't actually have names, I've looked for the name on the pot but unfortunately there wasn't anything. However these Glitter Eyes loose eyeshadows are colour coordinated to go with the Yardley Expert Eyes Gel Eyeliner. I haven't actually used them together yet.

I have the purple loose eye shadow and I'm absolutely in love with the colour, it's a royal purple colour if used with an eye primer, while without the eye primer it's a beautiful lilac shimmer colour. I've kept the best part for last, which is the pot that the loose eyeshadow comes in! It's a hard plastic pot which has a beautiful pattern and is clear so you can see the colour you're purchasing, while the lid has a beautiful jewel encrusted look. It's so beautiful and eye catching I couldn't resist purchasing this eyeshadow.

PRO's and CON's

PRO's
Comes in five amazing shades
High pigmented eyeshadow
Has a shimmer effect
Easy to apply
Eyeshadow lasts long on eyelids
Can be used with or without an eye primer
Comes on an attractive pot

CON's
Eyeshadow is expensive
The eyeshadow is limited addition

I would recommend you give this product a try because it is really the best loose eyeshadow available. I really love the glitter effect it gives eyes, and I'm glad this eyeshadow really lives up to the name Glitter Eyes. This loose eyeshadow retails for R70 per pot. Right now it seems a bit pricy, however once you've actually used the eyeshadow and you see the quantity and the quality of the loose eyeshadow you will understand why I'm recommended it. I can't wait to get more shades!
Was this review helpful to you?