MAC Veluxe PearlFushion Eye Shadow Trio
Hot
July 28, 2015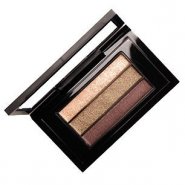 Product Info
Where to Buy
R475 MAC stores
A powder to cream eyeshadow compact offering three complimentary colours in various textures. The new trio compact features a collection of eight different palettes with a trinity of colours and shades. Each eyeshadow lasts for up to eight hours without fading or creasing on the eyelid. 
User reviews
(Updated: August 22, 2017)
MAC Veluxe Pearl Eyeshadow
I own coppering which is a veluxe pearl finish.

At first, I really was not impressed with the little colour pay off of this product.

Then I gave it a few more tries and finally worked through the top layer. Now, I am really enjoying the pigmentation.

Coppering is a really gorgeous shade that really amplifies both blue and green eyes. It could definitely work on brown / hazel eyes as well. A must have for fall and winter.

I am glad I stuck it out and gave this product a fair chance. Now, I can never be without it.
Product Recommendation
Would you recommend this product to someone else?
Yes
Would you repurchase this product?
Yes
Was this review helpful to you?
MAC Veluxe PearlFushion Eye Shadow Trio
The latest edition to the Veluxe range is the PearlFusion Eyeshadow trio offering three complimentary colours with a sparkle finish.

I instantly tend to gravitate to bronze colour palettes due to the my olive complexion and I love how the sparkle finish of these eyeshadows can be used to highlight, contour and strobe the face.
I used the more matte brown colour as a base on my eyelid and began developing the colour with the intense sparkle eyeshadows in bronze and gold. I particularly like to apply the gold in the corner of my eye, near the tear duct, as it catches light and sparkles all night long!

My face is instantly warmed with the rich colour tones of this palette - necessary during the winter when my skin is pale and dull - and perfect to create a bronzed goddess look in Summer.
I truly love this product and would recommend it to women of all ages!

Was this review helpful to you?