Tinted Eye Brightener
Hot
March 16, 2012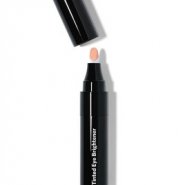 Product Info
Where to Buy
Bobbi Brown Cosmetic Counters at Edgars. The knowledgeable (and friendly) beauty assistants will be able to help you get the perfect shade that fits your skin tone and will be able to show you how to use the product properly.
The concealer comes in a small and handy little portable pen with a built in brush. Thus, there is no need to drag an extra brush along for application. The product will even fit in a clutch bag, so you can take it with you where ever you go (a quick touch up wont be a problem). There are approximately eight shades of this super lightweight concealer that instantly covers and brightens any problem arias.

Unfortunately, the product doesn't have SPF, anti-aging benefits or any of the other fancy perks most concealers offer, but it is a simple product designed to specifically cover problem arias, and it does that immaculately.

It costs about R300 at Edgars, a little bit expensive, but really worth the splurge.

User reviews
The concealer offered amazing coverage and looked completely natural. Best of all the application literally took 5 minutes! A MUST have!
Was this review helpful to you?