Becca The One Perfecting Brush
Hot
September 16, 2015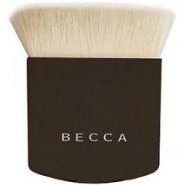 Product Info
Where to Buy:
R550 www.beccacosmetics.co.za
A multitasking brush that can be used on liquids, creams and powders. It is non-porous and high quality to prevent absorption into the bristles for seamless application. It can be used in a multitude of ways, from a foundation brush, to a powder brush, a contour brush to a bronzer, a concealer, a kabuki or sponge.
User reviews
Becca The One perfecting brush
The One perfecting brush

This has to be one of the quality brushes I've ever owned. This was added to my collection last week.
The packaging is so lovely: a dark brown box which had the dark brown box with a wooden like finish look in it with cream soft bristles said to be made out of a mix of natural fibers & goat hair.

This brush can be used to apply blush, shimmering powder, primer , liquid/ powder foundation, concealing, contouring or even strobing seems to be for keeps if it can do all wonders at one time, don't you think? I can use it for many things, this brush I quote 'a multi- tusk that cuts makeup application time in half by replacing 10 other brushes and tools' unquote.

This brush is made from non-porous, high-quality natural hair which allows the product to sit on top of bristles without getting absorbed by the brush to it's deeper end.

The One perfecting brush it takes pride & claims to be replacing these following brushes;
I quote:
*A foundation brush
*Powder brush
*Contour brush
* Bronzer brush
*Stipple brush
*Blush brush
*Fan brush
*Concealer brush
*Kabuki
*Sponge
unquote

I have used this ONE brush to apply my blush, bronzing pearls and shimmering powder and I honestly give it 10/10.

I'm at my happiest that I have added this brush to my collection. It's a must have not only saving you space for plenty brushes but delivers too!

It looks so big yet very light.

Price tag: R550 worth it
Where: BECCA COSMETICS
www.beccacosmetics.co.za
Product Recommendation
Would you recommend this product to someone else?
Yes
Would you repurchase this product?
Yes
Was this review helpful to you?