Review Detail
4.5
18
0.5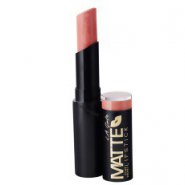 Lipsticks
April 07, 2016
163
Affordable, but not great
I'm so disappointed in this lipstick! I bought 5 shades, but the formula is not for me! This lipstick dries my lips, it sucks the moisture out (I scrub my lips before applying any matte lipsticks for extra moisture & for the lipstick not to dry my lips so easily.) It's affordable but not great.
Product Recommendation
Would you recommend this product to someone else?
No
Would you repurchase this product?
No
Comments