Ingram's Range
Hot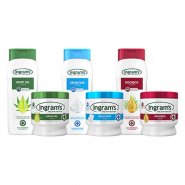 Ingram's is a heritage brand that's been trusted for generations as The Skin Doctor. They believe that your skin is SO much more than just skin, that it's a unique expression of who you are. Ingram's knows that when your skin is healthy and nourished, you have the courage you need to live life bravely. And to help you do just that, Ingram's has launched three new ranges that are fast-absorbing, non-greasy and target a specific skin concern so you can overcome your skin hang up to step into bravery:
Ingram's Hemp for very dry skin
Think all the goodness of organic hemp seed oil without any of the psychoactive ingredients found in cannabis. The hemp seed oil is extracted from hemp seeds through cold pressing. It's then filtered to retrieve all of the nutrients, antioxidants, and omega 3 & 6 fatty acids – skin food at its finest! Use it to calm very dry skin and provide it with intensive moisturisation that lasts a whopping 72 hours.
Ingram's Rooibos for normal to dry skin
This restoring formulation is packed with a special blend of locally-sourced rooibos extract – an indigenous plant that is only able to grow in the Western Cape's Cederberg area. It's oozing with antioxidants and vitamin E that not only improve your skin's elasticity, but leave it looking radiant and youthful as ever. Yes, please!
Ingram's Sensitive for irritated and sensitive skin
If you have sensitive skin, you're part of 40% of the population and know all about the struggle with fragranced/chemical-heavy products… That's why Ingram's Sensitive boasts a fragrance-free formulation enriched with glycerine and cetomacrogol to provide immediate gentle relief for irritated/sensitive skin. Plus, Ingram's Sensitive is one of the very few affordable sensitive options available – giving you the access you deserve!