Review Detail
4.7
1
0.5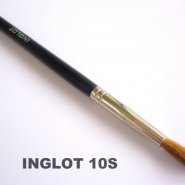 Applicators, Tools
March 25, 2013
95
The inglot 10s is a crease brush made out of pony hair and has a wooden handle.

This brush has relatively long bristles so it is ideal for all eye shapes. I try not to use it to apply makeup, but rather to blend it out after I've applied my eyeshadow.

You can never doubt the quality of Inglot brushes. I use this brush every time i do my makeup and it hasn't let me down yet.
Comments