Yardley Twist Nails - Midnight Fever
Hot
June 18, 2013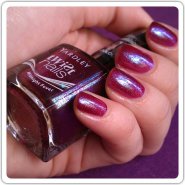 Product Info
Where to Buy
Clicks, Dis-Chem and selected pharmacies
A pretty grape polish with tons of sparkle giving it the 4D illusion.
User reviews
Sparkle the night away!
This has very quickly become my favourite winter polish!

My first love-factor would definitely be that its purple and it has tons of sparkle. Its perfect for winter but it still gives me a pick me up feeling on cold days.

The durability of this Yardley polish was pretty impressive. It lasted a solid 4 days without a top coat and faded rather than chipped (but everyone's nails differ).

Colour pay off was so-so. I had to apply 2 coats to achieve the colour in the pictures above but it could do with 3 coats. Seeing as the colour is so pretty, I don't mind investing the time applying 3 many coats!

This polish got me tons of attention at the office. So much so that I actually had to bring the bottle of polish and paint 2 co-workers' nails. They "just have to have it". I will definitely be wearing it again!

Thumbs up to Yardley!
Was this review helpful to you?