Vixen Nail Polish
Hot
October 08, 2014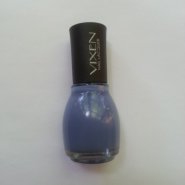 Product Info
Where to Buy:
Dischem Retails from R20.00
User reviews
Cheap but great!
I am in love with Vixen nail polishes.
I got a couple of them last December and I have been impressed by how vivid the colours are.
I love bright nail polish and when it shines, it makes it even better.
They do not last long, especially if you do the dishes or hand washing, but a good top-coat can help it stretch for up to 4 days before it starts chipping
Was this review helpful to you?
Vixen Polish
Today's polish is a cheapie, R20 at Dischem, but unfortunately it has no name. It looks like a dupe for Essie "Lapis of Luxury" you can have a look at swatches of that HERE. I have "Lapis of Luxury" at home, and will try do a comparison soon.

The formula of this polish is amazing! No streaking, it is super smooth, and in a rush, one coat would work. It dried relatively quickly. This polish lasted more then 4 days without chipping.
Was this review helpful to you?