Vitamin E Nail & Cuticle Oil
Hot
December 11, 2013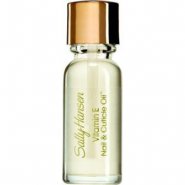 Product Info
Where to Buy
Clicks, Dis-Chem and other leading pharmacies and stores nationwide @ R 79.95
A vitamin E-enriched cuticle oil containing wheat germ, apricot kernel extract and safflower oils to help soften, moisturise and protect nails and cuticles.

Helps keep cuticles supple and nails resilient.
User reviews
Sally Hansen Vitamin E Nail & Cuticle Oil
Winter is a particularly harsh time for my cuticles - they are exposed to extreme dryness, cracking and splitting. Ouch! I need a regular and robust cuticle oil - that prevents cracked cuticles and helps me survive winter- pain free!

The bonus with this cuticle oil is that I am not left with an oily residue on my nails that leaves a mess on everything I touch! The oil is fast absorbing and deeply hydrates the nail bed. It is enriched with Vitamin 3, Wheat Germ, Apricot Kernel, Aloe and Panthenol - all nourishing my nail bed and delivering repairing properties to my cuticles.
Was this review helpful to you?
Vitamin E Nail & Cuticle Oil
It like that this cuticle oil comes with a nail polish brush as the applicator. The oil formula is odorless and absorbs quickly. One is supposed to massage it onto your nails and cuticles nightly to help increase circulation to the nail bed and stimulate new nail growth. This is very easy to do with the brush and does not take long to do.

I don't have great problems with my cuticles, but I have noticed how they look better when I am actively using this product. My nails itself also feel less brittle and look more healthy.
Was this review helpful to you?