Green cross foot care range
Hot
December 04, 2012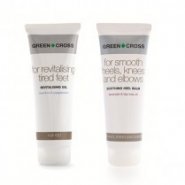 User reviews
I would really like to try out this foot care range from Green Cross. It sounds like a really good product and it is reasonably priced.
Was this review helpful to you?
Up until a few months ago when I heard green cross I thought shoes but now they have started a foot care range to take care of feet,legs,arms and hands. These sachets will last at least 3 uses and is perfect if you want to do a pedicure at home. All contain natural ingredients and smell amazing. I make it a habit of pampering my feet with a pedicure once a week as I run around in stilletos a lot to compensate for my shortness and that really takes a strain on my feet being cooped up in those shoes all winter so now that summer around the corner it is time to bring out the strappy sandals which mean the feet have to look soft and silky(goodbye dry feet and cracked heels). These products have specific ingredients so serve a specific purpose and they really do deliver the next day my feet were instantly soft and silky not sore and dry. We got 4 products to test:
•green cross soothing heel balm. (R31.50-75ml): contains lavender and tea tree oil for treatment of cracked heels,knees and elbows
•green cross revitalising gel (R29-75ml): contains menthol and peppermint to revitalise and stimulate tired feet. Quick absorbing and non greasy.
•green cross moisturising lotion (R29.50-75ml): contains almond oil and aloe vera for intensive hydration for feet and legs. Clinically proven to relieve and prevent dry skin
•green cross rough skin remover (R30-75ml): contains calomile and peach stone granules to exfoliate the hands,elbows and feet.
Was this review helpful to you?