Hask Essentials Express Blow Dry
Hot
March 24, 2016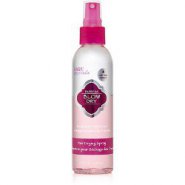 Product Info
Where to Buy
R149.95 at selected Clicks stores
The Hask Essentials Express Blow Dry is a lightweight, dual-phase spray that accelerates your hair drying process by evaporating water. With a unique formula it leaves hair detangled and polished.
User reviews
Quick FIx
I HATE blow drying my hair. I have very fine, very limp and very fragile hair so I tend to TRY and keep heat away from it as much as possible. But when I do need to dry my hair before bed, especially in the winter months, I love using this product.

1. It smells great
2. It really does speed up drying time
3. It eliminates frizz
4. It leaves my hair feeling soft.

I don't have A LOT of experience with these types of products as I tend not to go through them quickly as I don't use a lot of heat on my hair AND my hair is only shoulder length. But this one does the job for me. I am a HUGE HUGE fan of Hask Hair Products.
Product Recommendation
Would you recommend this product to someone else?
Yes
Would you repurchase this product?
Yes
Was this review helpful to you?