Fighting the Fight against Frizz?
Hot
May 30, 2013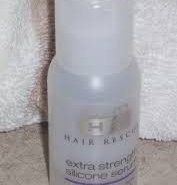 Product Info
Where to Buy
At all Clicks stores:Brand Name: Hair Rescue
Hair Rescue Anti-Frizz Treatment is an effective product that works with your hair shaft to esnure that it's looking its very best at all times. The best feature is that it can be used on wet/dry hair, so staright out off a shower, you can just spray onto your towel dried hair (the spray mechanism ensures that the correct amount of product is being dispensed reducing wastage) and leave it be. It closes up the hair cuticles effectively so even if you are using heat stykling products (Dryers/straignteners/curling tomgs) your frizz factor is already taken care off

The price is reasonable (R44) and compared to othwer more expensive leave-in treatments, yopu are geeting your money's worth

The silicone-infused spray smooths and leaves your hair feeling silky to the touch, definietekly a winner for frizz-prone and unruly hair


User reviews
Anti Frizz Silicone
I thought that Silicone but wouldnt work on ethnic hair but after my stylist recommended it to maintain my perm I changed my mind. Not only did it keep my curls intact for over a week but it also kept my manageable. For someone who struggles with very dry hair its great to find a product that locks in moisture and gives your hair a lustrous shine!!
Was this review helpful to you?
Stop The Frizz Fast
People with all hair types will benefit from regular use of this product. It is very rare to find a product that meets and exceeds your expectations, glad that Good Hair Days can now be had each day :)
Was this review helpful to you?