Nature's Gate - Chamomile and Lemon Verbena Moisturizing Shampoo
Hot
June 06, 2011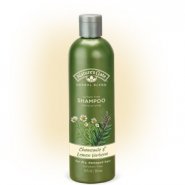 This mild shampoo is perfect for hair in need of extra moisture or hair that has been depleted by chemical processing. Organic Chamomile and Marshmallow Extracts are combined with Aloe Vera to moisturize, nourish and help smooth ends. Panthenol (Vitamin B5) helps protect hair against breakage leaving hair looking healthy with renewed shine and vitality.
User reviews
Not a good product, did not help my coloured hair condiition one bit
Was this review helpful to you?
Nature's Gate - Chamomile and Lemon Verbena Moisturizing Shampoo
I bought this during a time when my hair was in horrible condition. Not only was it falling out, but it was dry and dull. The ingredients in this peaked my interest, it's paraben free and organic, that's why I bought it.

I really hated this shampoo and only used it a few times and then it just sat in my shower till I finally gave it to my sister to try. First off it didn't foam at all. I would put more shampoo than what was required and it still wouldn't foam up. I hated this, as I love my cleansing products to have a nice foam. So basically my hair didn't feel clean and it felt quite drying as well.

It almost felt waxy as well after rinsing it out. It didn't do anything for my hair and I wouldn't use this again and I definitely wouldn't recommend this to anyone.
Was this review helpful to you?