Loreal Paris excellence hair colorant in 5.15 iced brown
Hot
June 13, 2014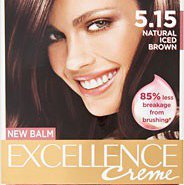 Product Info
Where to Buy
Clicks for R139.99
3 in one colour designed to protect give 100 per cent grey coverage and not wash out
User reviews
Loreal really is Excellence!
Last year I used a hair color that was supposed to give me a nice brown shade but instead turned my hair pitch black.. And that made me look completely dull.. Oh the horror.. My hair is naturally dark but not pitch black like what this color turned it into.. A few days ago I bought a box of Loreal excellence hair color and I chose a blonde shade because my hair is very stubborn and if I want a brownish color, blonde is the shade I have to use.. Trust me I was not disappointed.. My hair is transformed.. It's a very subtle brown and I'm loving how this color just lights me up.. Amazing!

Loreal have included a lovely shampoo with this color which is great and smells divine.. There is also a conditioning hair mask included as well which made my hair feel like silk.. Just divine!!!

I will never use any other brand of hair color ever again... This is it for me! ..

Happy happy happy!!!
Product Recommendation
Would you recommend this product to someone else?
Yes
Would you repurchase this product?
Yes
Was this review helpful to you?
Gentle and comes out exactly as picture on boc
Ever had ur hair done and hated the result! I had highlights put into my dark hair that were too brassy n made me feel uncomfortable! My hair was brittle and hard! My hairdresser advised i wait to colour cos my hair had been through too much! Standing in clicks i took matters into my own hands ! I bought this because of the protective preserum that's applied precious! Then the prokeratin formula with a nifty little comb on the applicator with non drop formulation that protects as you colour and then 30 min later rinse and apply the gorgeous heavenly scented mask! My colour looks exactly like the box at a fraction of the price! My hair is soft and appears healthy! My mum loves this brand! I can see why! 100 percent grey coverage in a caring non drip pleasant smelling formula!
Was this review helpful to you?