Bumpits
Hot
April 09, 2013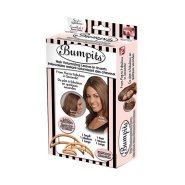 Product Info
Where to Buy
Homemark Stores
Game
Spar
Checkers Hyper
Pick n Pay Hyper
Bumpits self gripping leave-in volumizing hair inserts give you instant volume, like you just stepped out a professional salon! Available in 3 shades for a perfect colour match.

User reviews
This is an amazing revolutionary product, to give you volume anytime, anywhere! I purchased the Bumpit Kit in dark brown, so it will blend in well with my hair. The kit comes with :
A small Bumpit
A medium Bumpit
A large Bumpit
A tail comb

This kit makes styling your hair so much more simple, and you can add so much more to a simple hairstyle by three easy steps. With this kit you can master adding volume (the well known "poof")

The process
Select which amount of volume you want and section hair using the tail comb.
Place the Bumpit under hair and allow hair to fall over while adjusting how you want your hair.
And final step is to section your hair!
DONE!

I would recommend you purchase this kit if you love to add volume or master adding volume then this is the product for you! Plus this product can give you a professional look within minutes, which is so hard to achieve without this kit. Plus the kit retails for R99 which is really affordable.
Was this review helpful to you?