Filorga Optim-Eyes Express Anti-fatigue Eye Patches
Filorga Optim-Eyes Express Anti-fatigue Eye Patches
Hot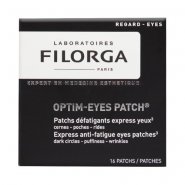 Filorga Optim-Eyes Express Anti-fatigue Eye Patches is a 10 minute treatment that removes signs of tiredness around the eyes. It reduces the appearance of dark circles, bags and wrinkles. 
User reviews
Hi beautifies =)

I am looking for something to help with my tired eyes. Working on the computer all the time and not sleeping enough really takes its toll.

Has anyone used this product before? I am willing to try anything to take away these horrible bags under my eyes.

Looking forward to hear from you
Product Recommendation
Would you recommend this product to someone else?
No
Would you repurchase this product?
No