Review Detail
4.7
1
0.5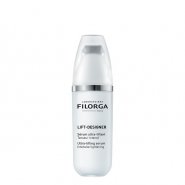 Eye Creams,Serums
March 29, 2018
120
Being 46 this ultra-lifting serum is a perfect product with both collagen and hyaluronic acid as ingredients to boosts skins volume. I found the mechanical roller application so formidable and innovative, you pump the product into a well, the rollers sit inside the well and you roll the serum all over, focusing on the parts that need the extra plumping. My skin felt immediately more radiant due to this mechanical rolling action and I have thoroughly enjoyed seeing my skin firmer after a month of use. If you are expecting results as radical as injectables in aesthetic treatments you might be disappointed but if you are looking for natural plumping and firmness, this is a product to consider.
Product Recommendation
Would you recommend this product to someone else?
Yes
Would you repurchase this product?
Yes
Comments