Filorga Lift Designer Ultra-Lifting Serum
Filorga Lift Designer Ultra-Lifting Serum
Hot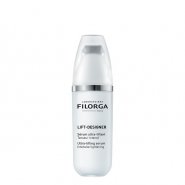 Filorga has created a range of ultra-lifting products. The Filorga Lift-Designer Ultra-Lifting Serum Is the serum in the range. It is best suited to women 40+ whose skin is sagging or lacking firmness. The product is inspired by the latest aesthetic innovations and tightens the facial features and plumps the skin with visible results in as little as seven days and offers long -term tightening. The core formula contained in the product are the Plasmatic Lifting Factors ® containing three active ingredients used in injections i.e. Cellular Factors (which stimulates cell renewal and restore collagen and elastin synthesis), Collagen (marine collagen to boost natural collagen reserves) and Hyaluronic Acid (swells to lift sunken areas and redefine facial contours).
The serum also contains the benefit of a double tightening action through a duo of plant active agents plus the innovative pump and roll-on application mechanism providing mechanical stimulation.
User reviews
Being 46 this ultra-lifting serum is a perfect product with both collagen and hyaluronic acid as ingredients to boosts skins volume. I found the mechanical roller application so formidable and innovative, you pump the product into a well, the rollers sit inside the well and you roll the serum all over, focusing on the parts that need the extra plumping. My skin felt immediately more radiant due to this mechanical rolling action and I have thoroughly enjoyed seeing my skin firmer after a month of use. If you are expecting results as radical as injectables in aesthetic treatments you might be disappointed but if you are looking for natural plumping and firmness, this is a product to consider.
Product Recommendation
Would you recommend this product to someone else?
Yes
Would you repurchase this product?
Yes