Aroma White C Brightening Day Emulsion SPF15
Hot
January 18, 2014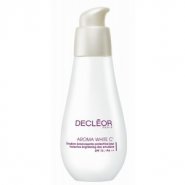 Product Info
Where to Buy:
woolworths around R560
light mattifying emulsion with brightening , spf and a gorgeous scent
User reviews
Decleor
- fairly pricey
- works well
- really nice scent
- its not too thick
- great product
Product Recommendation
Would you recommend this product to someone else?
Yes
Would you repurchase this product?
Yes
Was this review helpful to you?
Aroma White C Brightening Day Emulsion SPF15
This light lotion provides hydration, a matt appearance and a complex with highly stable Vitamin C, with anti-oxidant properties and the ability to regulate the skin's* pigmentation process. This day treatment will
- even out the complexion and help reduce the appearance of pigmentation
- prevent the appearance of new marks with added SPF
The perfect day cream for brightened protected hydrated skin
Was this review helpful to you?