Tropitone Sunless Bronze Self Tan Lotion
Hot
February 23, 2012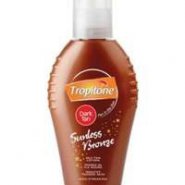 Product Info
Where to Buy
Pick n Pay, Clicks, Diskem, anywhere.
Tropitone Sunless Bronze is a self tanning lotion that will help you get that sun kissed look without being exposed to the harsh elements of the sun. It contains milk extracts that help prevent problems that are usually associated with self-tanners, such as streaking.

This self tanner works in 4-6 hours and makes getting that perfect healthy, tanned look, much easier.