Drops of Youth Exfoliator
Hot
February 24, 2017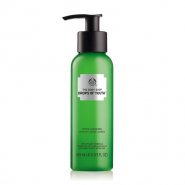 Product Info
Where to Buy:
Available from The Body Shop stores Available online at www.thebodyshop.co.za Price: R225.00 - 145ml
The Drops of Youth Exfoliator is made with 3 plant stem cells.Edelweiss, sea holly and criste marine. It peels off impurities and pollutants. It has a gel-to-peel formula and leaves skin feeling clean and purified. 
User reviews
(Updated: February 08, 2018)
The Body Shop Glow Revealing Liquid Peel
I have this in the Vit C version & I adore this product.

It works through a method called "noodling" and what that means is that as you work the gel over your skin, it grabs onto dead skin, which then balls up.

You then rinse the remnants off and are left with skin that is so smooth and supple. This stuff will blow your mind!

I really love using this once a week for the ultimate boost in prepping my skin for my topical products.

The price is great and the product lasts really long. A must-have for me.
Product Recommendation
Would you recommend this product to someone else?
Yes
Would you repurchase this product?
Yes
Was this review helpful to you?