Total radiance night cream
Hot
April 15, 2014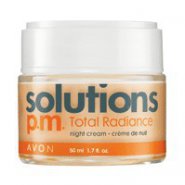 Product Info
Where to Buy
I bought it from my Bestie
This creams soaks in very well and another bonus is you don't need much of the cream to cover your face and neck.
User reviews
So sad Avon took it off the market
I use to swear by this and its serum. I could see the visible change within the first week of using it.

This cream makes my skin feel so soft and moisturized when I put it on at night.

I bought a couple of them when they discontinued it. This was the best product i have bought in ages.
Was this review helpful to you?