Pond's Perfect Colour Complex Day Cream
Hot
July 12, 2013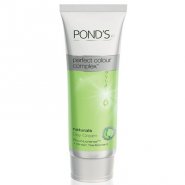 Product Info
Where to Buy
Any retailer. I bought mine at Clicks
R25.99
User reviews
need this product back
this product worked for me while it was still in stores, since it was discontinued I have gone from products to products and nothing has worked for me, is it possible that this product can be brought back or maybe be produced in small quantities to be ordered online for people it works for, put it on the review comments that its back as it worked for a lot of people.
Product Recommendation
Would you recommend this product to someone else?
Yes
Would you repurchase this product?
Yes
Was this review helpful to you?
Pond's Perfect Colour Complex Day Cream
I have a very sensitive skin so I was looking for a range of facial products that would not make me break out in blotchy, itchy bumps all over my face, which is what most other brands did when I used it.

The Ponds Naturals range has Green Tea Extract, which makes it perfect for sensitive skins as it is not harsh on the skin. I do not break out at all when using this Day Cream. I'm not too sure about it reducing my dark spots as I dont see much of a difference where that is concerned. It also definitely does not give me a "natural glow" as the packaging states. I'm just so glad for my face to not be itchy and it moisturises my skin well so I'm happy with the product.

I have 25ml's, which seems very small but a little of the product goes a long way.

The Day Cream has no spf factor so extra sun screen is required.

The Pond's range is quite cost-effective.
Was this review helpful to you?