Oils of Life™ Intensely Revitalising Sleeping Cream
Hot
March 15, 2016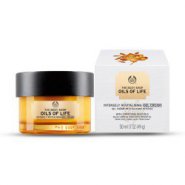 Product Info
Where to Buy
R240 at The Body Shop and selected Clicks stores
A night time cream that deeply nourishes, visibly revitalizes and intensely firms your skin while you sleep.
User reviews
Intense moisturization
I purchased this about two months ago for R380. I needed something to help my skin in Johannesburg Winter.

This is extremely intensive. It keeps you hydrated for the entire night and your skin visibly glows when you wake up in the morning. It keeps your skin soft and rejuvenated. It does not burn your eyes which is great but it can burn your skin a bit if it's sensitive and breaking.
Product Recommendation
Would you recommend this product to someone else?
Yes
Would you repurchase this product?
Yes
Was this review helpful to you?