Clinique Dramatically Different Moisturizing Lotion
Hot
March 06, 2012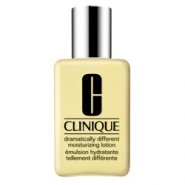 Product Info
Where to Buy
Edgars, Truworths or any other department store or drugstore where you might find a Clinique counter
Step 3 in Clinique's 3-Step Skin Care System. The moisture "drink" developed by Clinique's dermatologists to maintain optimal moisture balance. Softens, smooths, improves.

How to Use:

1. Apply twice a day to face and throat all over, or where needed.
2. For best results, use after Facial Soap and Clarifying Lotion.