Hey Gorgeous - Aloe Green Tea and Honey Facial Mask
Hot
March 05, 2014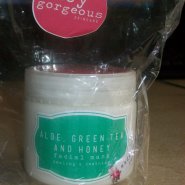 Product Info
Where to Buy
Email:
This email address is being protected from spambots. You need JavaScript enabled to view it.
You can check out the huge variety of gorgeousness here www.hey-gorgeous.co.za
Priced @ R165
User reviews
Hey Gorgeous - Aloe Green Tea and Honey Facial Mask
Firstly this product is made with love. When I opened this product I was blown away as it smells absolutely divine and good enough to eat. (But you cannot)
I just applied to my skin and left for 10 to 15 min as indicated on the bottle. And wiped off with a damp cloth. My skin felt so smooth and soft. Love the way my skin felt after the mask.
This product contains all natural ingredients that is what I loved about it. No harsh chemicals. Aloe Green tea and Honey
Hey Gorgeous is Beauty without cruelty accredited.
Hey gorgeous would make a perfect gift for anyone and they also have gift cards available.
So in all I would recommend this product to anyone. It's healing and very soothing to the skin.


Was this review helpful to you?