Aqua Mineral from the Dead Sea Marvel Rejuvenating Mask
Hot
February 26, 2013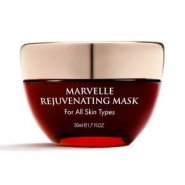 Product Info
Where to Buy
Amazon site Wantitall site Brand website Certain Malls in PE & Durban South Africa
Grey colored finely textured with a beautifully subtle fragrance. Comes with and applicator and a magnet block.
User reviews
Aqua Mineral Marvelle Rejuvenating Mask
A rich nourishing face mask that leaves skin glowing for hours. Skin is hydrated and purified with no drying out. Pity it is such an expensive product but definitely worth trying out for a well deserved treat for
the self :)
Was this review helpful to you?
Spreads easily with the applicator. A thin layer is put on the skin and left for 5- 10 minutes. The product is not washed off with water, but removed with a magnet block and a piece of paper. The products comes off easily removing impurities leaving the minerals behind in the skin. Fine lines disappear instantly. Can test by doing the one side of the face and compare with the other side of the face. The skin improves with repeated use; once a week. My skin looks better now than ever

Was this review helpful to you?