NIVEA CELLular Anti-Age Serum Sample
Hot
March 19, 2014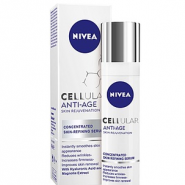 Anti-Age Serum
User reviews
NIVEA CELLULAR ANTI-AGE trial review
The product label promises "Reduced wrinkles, improved firmness and instantly smoother skin". And that is exactly what this serum delivered. After 2 weeks of use twice a day I could see less neck and forehead wrinkles, a firmer jawline and instantly smoother skin directly after application. Also, this serum is an excellent primer under foundation, making it a double value product : it treats as well as provides a smooth skin surface under foundation.
Thumbs up, NIVEA!
nivea ANTI AGE SERUM
I LOVED THIS PRODUCT ON MY SKIN , I ONLY RECEIVED IT ON THE 18 TH MARCH AS THE POST OFFICE WAS ON STRIKE ,,USED IT IMMEDIATELY ...WOW 10 DAYS LATER , MY RASACOI (REDNESS IN MY FACE IS LESS VISIBLE ,,WITHOUT MAKEUP ON ) MY SJIN FEELS SMOOTH ,IT LOOKS SOFTER AND I CAN SEE THE WRINKELS ARE SOFTER ...IM 44 SO ANYTHING THAT HELPS IS A BONUS LOVE THIS PRODUCT NO HESITASION IN REFFERING THIS PRODUCT TO ANYONE JUST SEE MY PICS !!
NIVEA CELLular Anti-Age Serum Review
I have been using NIVEA CELLular Anti-Age Serum for 2 weeks now and I can already see a difference in the overall condition of my skin. It looks smoother, the pores look finer, and the lines around the eyes are softer. I have been applying it morning and night and although I tend to have combination/oily skin and never use any creams at night, I had no experience of greasiness at all. I am very happy using this product and will continue to buy this for myself in future.